· museums of mother see of holy etchmiadzin ·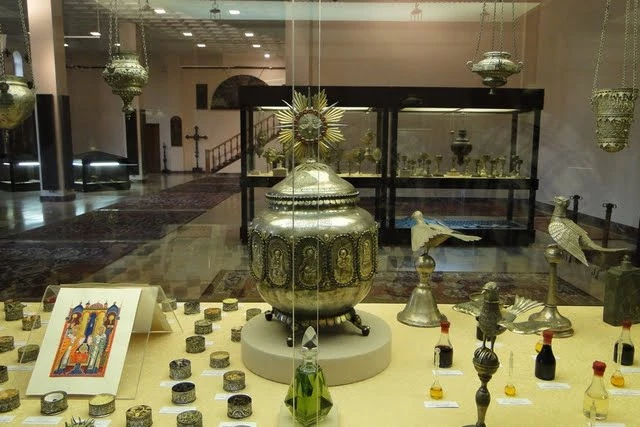 The first Museum of the Mother See of Holy Etchmiadzin was founded in 1869 with the blessing of the Catholicos of All Armenians Gevorg IV; it is the first official museum of the Republic of Armenia. In the course of years new museums were created in Holy Etchmiadzin, and today the following structures are parts of the Holy See Museum Complex – The Catholicos Museum (1869), "Khrimian" Museum (1896), Museum of Old Veharan (Old Pontifical Residence, 1971), Museum of New Veharan (New Pontifical Residence, 1965), "Alek and Marie Manoogian" Treasury House (1982), Ruben Sevak Museum (2013).  

The museum collection of Mother See of Holy Etchmiadzin, one of the religious church centers of the world, has taken shape during the course of centuries. The museum collection of Holy Etchmiadzin consists of around 5,000 exhibits. Although the highly artistic creations housed and displayed in the Mother See make up a very small part of the rich historical and cultural heritage of the Armenian nation, this collection, thanks to its geographic and chronological breadth, truly is a unique and original encyclopedia of the Armenian Christian Culture and Church Art. The museum collection also includes paintings, sculptures, carpets, and portraits by Armenian and foreign artists, as well as archaeological objects.  


Although there is a permanent exhibition in the Mother See, the exhibits are grouped by themes, as such, the Catholicos Museum displays the important shrines of the Armenian Church, the cupboards of consecrated bread, other metal creations of church art. The Treasury House displays the altar curtains and church outfits, manuscripts, icons, carpets, archaeological items, the New Veharan, "Khrimian", and Ruben Sevak Museums display paintings, the Old Veharan displays personal items and images pertaining to the Catholicoses of All Armenians.